---
Multibike Garages: Simon Weir
By Simon Weir
He's clocked more miles than a NASA space shuttle and ridden so many bikes that he's forgotten more of them than most of us have ever swung a leg over, Simon Weir is an author, speaker, motorcycle journalist and former editor of RiDE magazine. He talks to BeMoto insurance about what's in his multibike garage and why.

---
Who are you?

Simon Weir, the author of the Bikers' Britain and Bikers' Europe books, former editor of RiDE. Now I run my own website –www.simonweir.co.uk – because nobody should have to ride a boring road at the weekend.
What do you want people to know about you?
I've been riding bikes for longer than I've been shaving – and touring on them pretty much all the time, though I was a despatch rider in London at the end of the 80s (yes, I'm that old).
I've been a journalist since the early 90s and started working as a bike tester in 2003 – first on Bike, then fleetingly on Performance Bikes, then for 10 years on RiDE where I managed to spend a lot of time riding around Europe to create touring guides. That was hard work, I can tell you…
I jacked it all in at the end of 2018 after getting divorced and decided to ride to Australia. I got back to the UK just ahead of Covid and have been slowly building up my biking business ever since.
I also play guitar and like fancy gin. None of that fruit-flavoured rubbish, mind.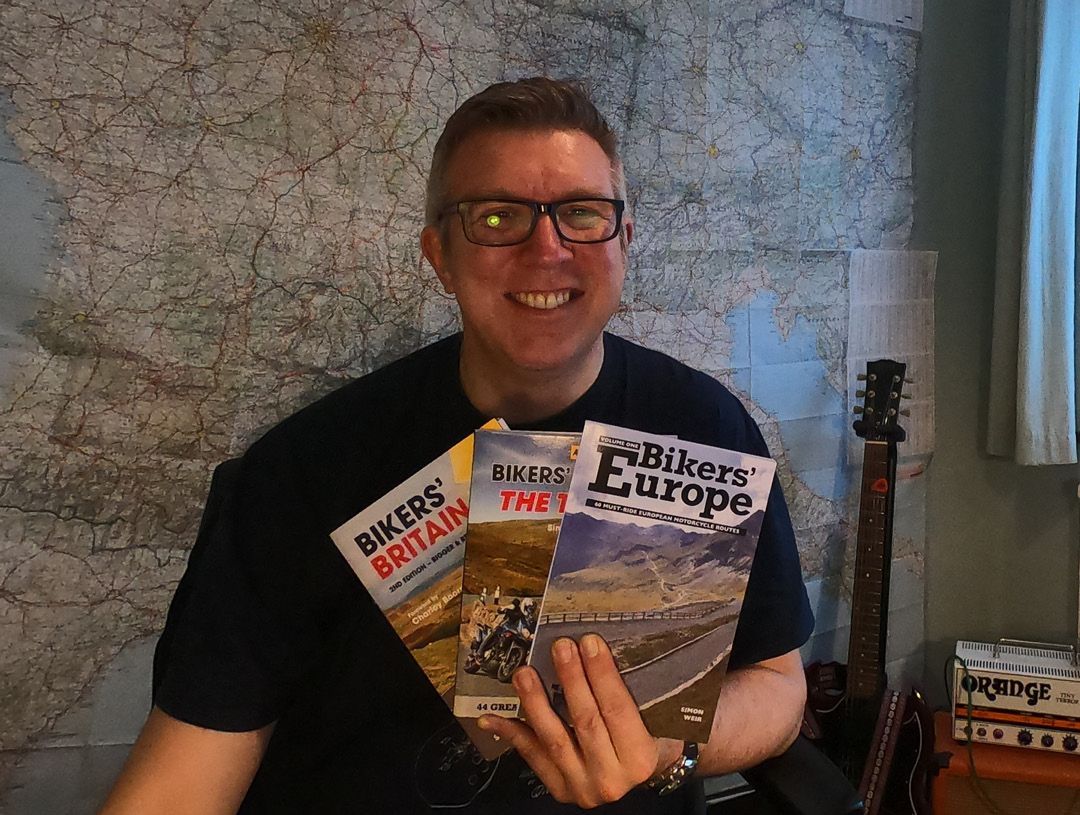 ---
Tell us a little bit about your work
My website has more than 300 downloadable GPX routes for sat navs and phone apps, covering all of the UK and Europe too. Some are full-day rides, but there plenty of shorter ones that can fit into an afternoon away from the DIY. They're all tried-and-tested, so you can grab one and ride somewhere new, confident that it'll be a good route.
There are complete self-guided tours of Europe, too – and I offer a bespoke tour-planning service, so if you want to go somewhere a bit different, I can put the whole trip together for you.
I'm also an advanced riding instructor – and while I'm RoSPA and BMF qualified, I have one simple aim: to make riding more enjoyable.
Plus I write the occasional feature for MCN, post regular blogs on my website and I'm even taking tentative steps into creating videos – including filming some of my routes with Bruce Smart on his Teapot One channel.
And, of course, I'm still writing books – with new collections of British and European routes coming out this spring.
---
How long have you been riding?
On the road, since I was 17. That's dangerously close to 35 years of mucking about on two wheels. I didn't bother doing my car test until I was 20 (and then only to have something to do during the day, when I was working nights in a chicken factory).
What was your first bike and why?
A mighty MZ ETZ125 – because my parents said a 50 would have been dangerously slow with a big lump like me on top of it (I'm 6ft 5in tall) so I had to wait until I could ride a 125. Why the MZ? A friend of my dad's was selling it and it was half the age and half the price of an RD125. Went half the speed, but hey… Its breakneck velocity encouraged me to do my test within a couple of months and get something better.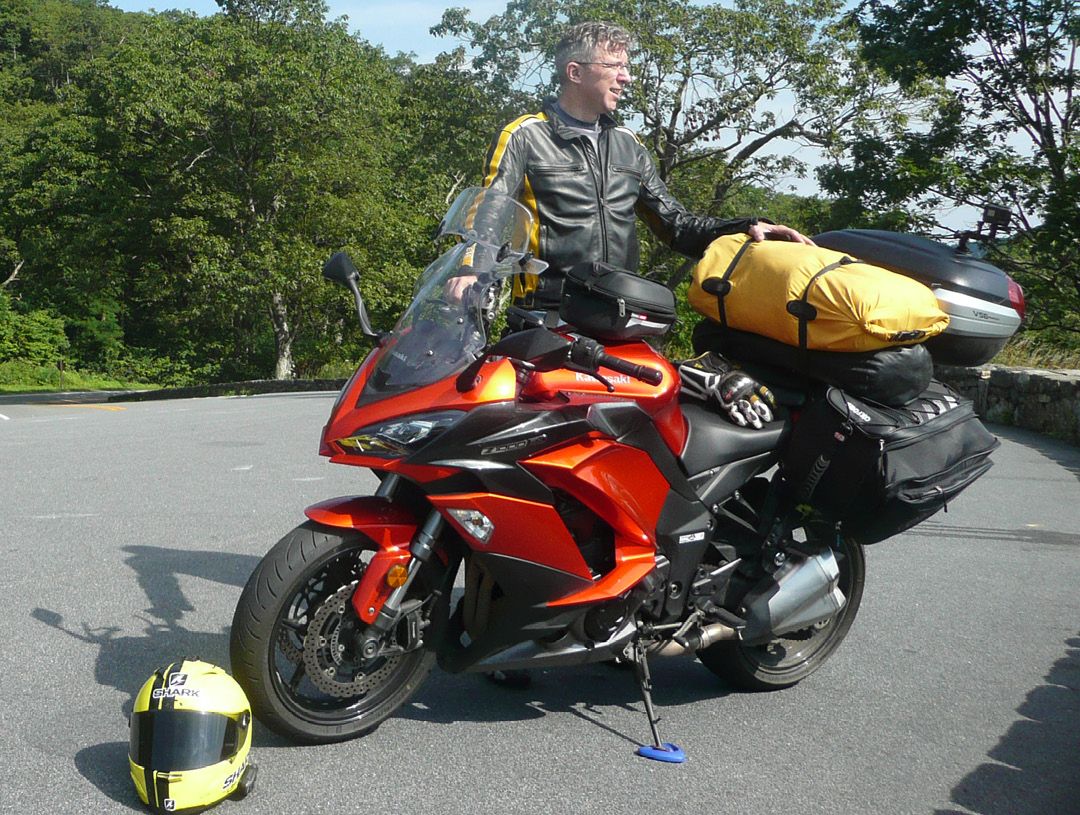 ---
What bikes are currently in your garage?
The 50,000-mile Z1000SX that was my long-term test bike on RiDE in 2017, which I enjoyed so much I bought from Kawasaki rather than give it back, and a 2020 Honda CrossTourer… because I needed a good bike for taking a pillion and I was too tight to buy a GS.
What's your pride (your fave) of the fleet and why?
The SX is the bike I shipped to Canada in 2019 and rode around the US, then I shipped it to Australia and rode it around there too. I can't see myself parting with it – though I do need to get a new tank for it.
At the end of, effectively, the final day of my trip, waiting to board the overnight the ferry from Tasmania back to the north island (mainland Aus) the wind was so extreme it blew an F800GS off its sidestand, onto my Kawasaki – denting the tank. Next day I rode from Melbourne to Sydney and put the bike in a crate to be shipped back here. I still haven't got round to fixing it…
First one that you'd sell?
As much as the CrossTourer suits the way I ride – and is much better for touring with my girlfriend than the SX – when the PCP is up on the Honda, I'll probably swap it for something else. Or who knows? Maybe I'll keep it and just add to the fleet. There's a Speed-Triple shaped space in the garage that could be filled…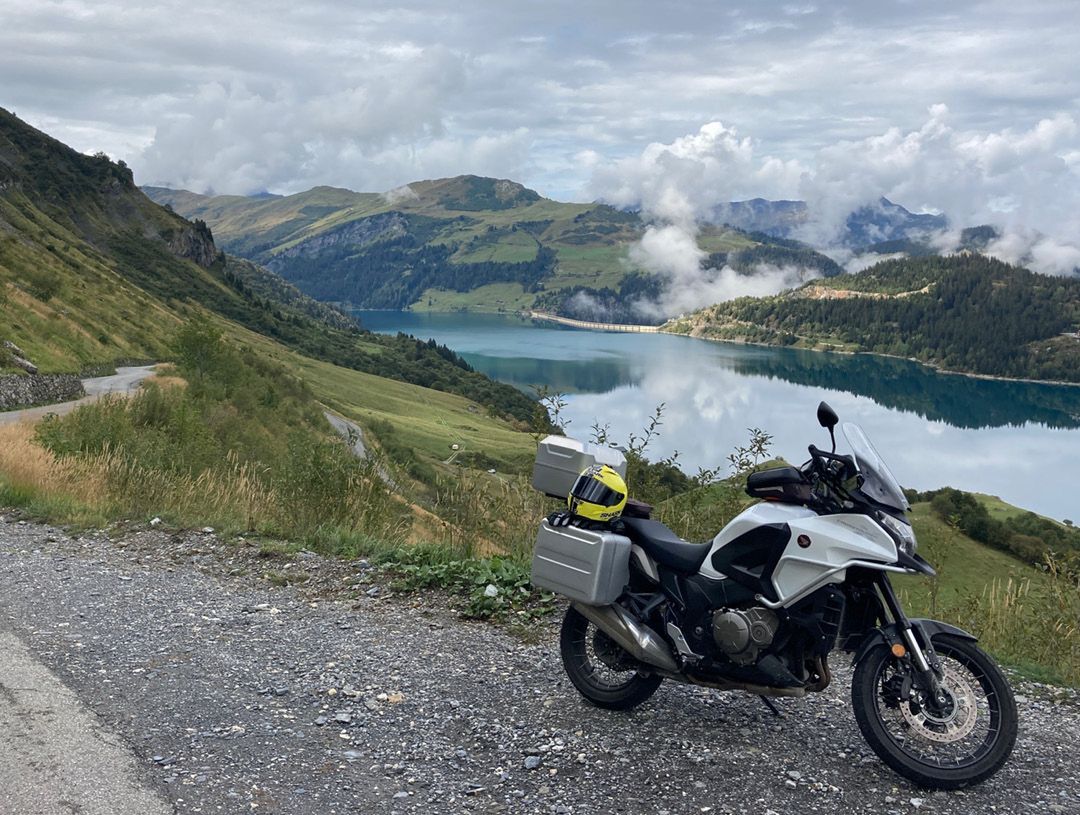 ---
Word of advice for owning multiple bikes
Never put the bike away dirty: it'll stay dirty. Ride them both a lot and clean them regularly.
What's the one other bike you'd really want in your multi bike collection and why?
Did I mention the new Speed Triple? Much as I love touring – and I have pretty much ideal two-up and solo touring machines in the garage at the moment – you can't beat a hairy-chested naked bike for squeezing the maximum fun from a sunny day on a quick local blast. Of course, I haven't actually ridden the new 1200 yet, so if anyone at Triumph would like to lend me one…
What is the single best experience you've had on one of your bikes?
Riding for a living for so long, I've been very lucky – from testing launch control on a supercharged Kawasaki H2-SX on the straight at the Estoril GP circuit to hitting the limiter in top on a BMW K1300S on an autobahn, from riding the amazing R44 coast road in South Africa on the K1600GT launch or taking a hired Honda on the road to Paradise in New Zealand. Never mind all the amazing days in the French Alps and the Dolomites, the Pyrenees and the Picos, or Corsica… my god, Corsica…
But to be honest, the best thing was uncrating my own bike in Sydney and riding it down through Australia's Southern Alps, into the red centre, then along the Great Ocean Road and over to Tasmania. Who cares how many speeding tickets I picked up over there, with the crazy low speed limits? Totally worth it.
Best bit of motorcycling advice you've ever received or dispensed?
Relax. Really look where you're going. Enjoy it. So many people never get to experience what it's like to ride a bike – we're lucky. So we should make the most of every moment.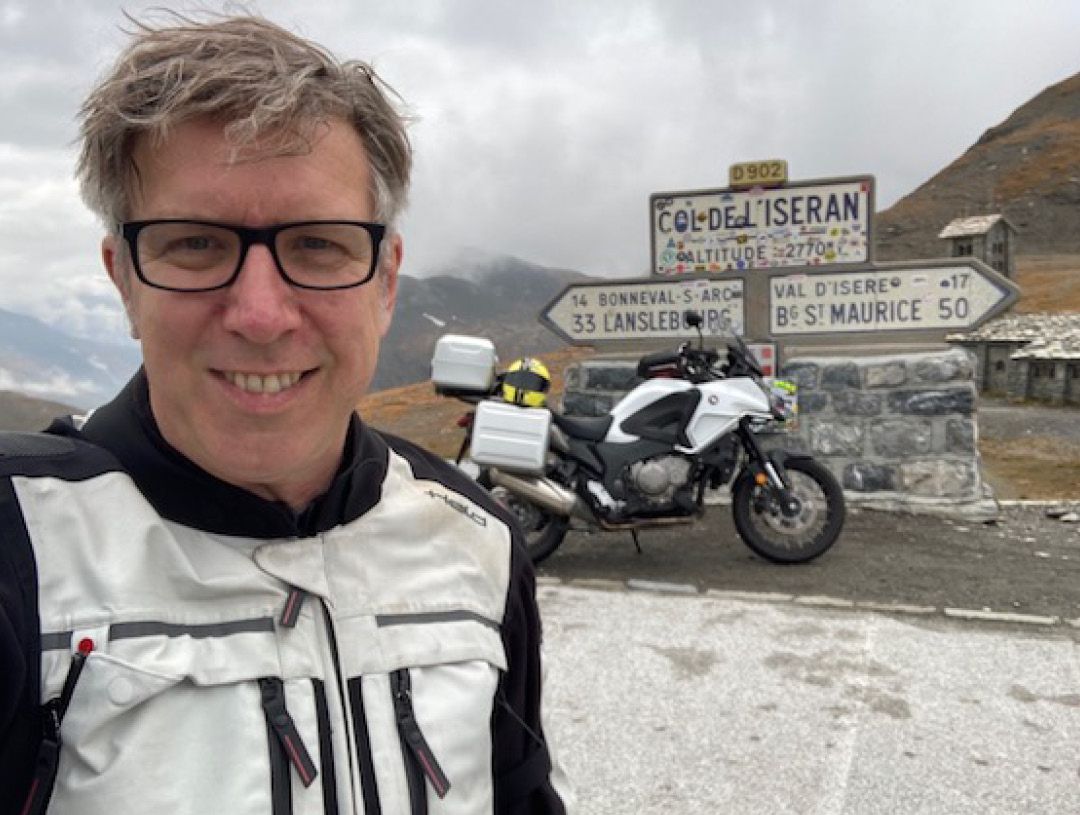 ---